I have been thinking for last few months about what should come next now that the last pieces of the Trade Show Exhibitors Association (TSEA) have been laid to rest. Where should exhibit marketers turn for its pillars of networking, education and advocacy? While I will miss attending the events TSEA hosted such as The Red Diamond Congress, TS2, and local chapter meetings, in my opinion there is good news for each of those key pillars.
As I 'pen' this post I am sitting on a plane on my way to the EXHIBITOR Live Conference in Las Vegas. Along with other conference such as Event Marketing Summit, there are opportunities for in person educational classes to help you grow your knowledge and meet other marketers outside your industry vertical.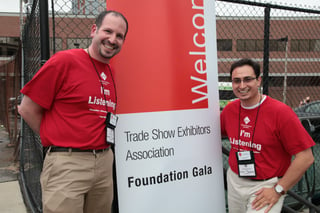 The one area that will require a little effort from each of you is the advocacy. How do you affect change without an organization uniting you together? It's the same principal that TSEA promoted, talk to your fellow exhibitors. When you are at tradeshow walk across the aisle and chat with your neighbors. Inquire about becoming part of the exhibitor/sponsor advisory committees for the key events you participate in. In short, don't just set up your booth and leave, become a part of the exhibitor community. As event marketers we have many things in common and share the same type of experiences. We have a reason to work together. The word we promoted as part of advocacy at TSEA was called coopetition.
Coopetition is a great concept. You cooperate with your competition to help each other while not sharing any proprietary information. As a side benefit you tend to gain some good friends. When something comes up that requires a united voice, you will have the network of people to help support you. I strongly encourage you to give it a try.
While a new association to replace TSEA may not be coming to fill its shoes anytime soon, its mission can still live on. That makes me smile. I hope you feel the same way. I look forward to hearing your comments.